Come Join Us at The Winter Market at Fountain Square: HOLIDAY POP-UP SHOP!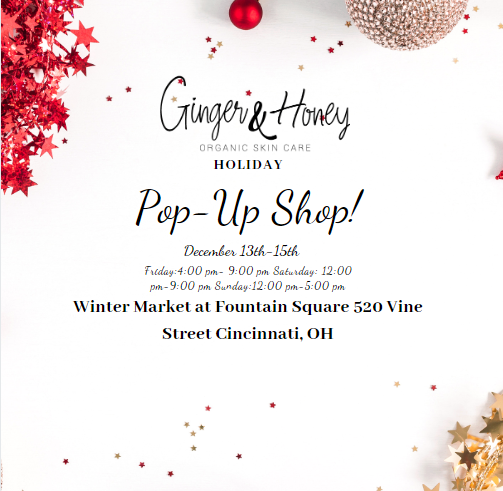 Come join Ginger & Honey at Cincinnati's Annual Winter Market at Fountain Square. This weekend there will be amazing events; Wine Tasting for one, for you to enjoy with family and friends. Ginger & Honey will be one of the featured Pop-Up shops for this event with amazing Organic Skincare Products. So, if you missed the Black Friday/Cyber Monday with us, NO WORRIES, we will be LIVE and IN-PERSON for you to take advantage of some NEW organic skincare items for you and your family. 
Come on down to the festivities and get your LAST MINUTE Christmas items off your list! We're featuring the following products already pre-made and pre-wrapped for your convenience:
Holiday Spa Box: This box contains EVERYTHING you need for a nice relaxing spa day in the comfort of your own home. This box is filled with body butter, Sugar Scrubs, Body Oils, Face Masks and MORE! Perfect for a Holiday Spa Day at home.
Massage Box: Don't want to leave the house for a massage? No fear our massage box is here containing ALL  of your needs for the perfect at-home massage treatment. Filled with relaxing candle scents, massage oil & muscle relaxing massage lotions. 
Face Repair Box: Struggling with breakouts, dry winter skin, or just want to remove the "Yuck" from out of your pores? Try our signature Face Repair Box filled with everything you need to keep your skin clear, supple, and soft during the entire winter season.
BYOB: Nope, this does NOT stand for BRING YOUR OWN BOTTLE. Ginger & Honey offers you the option to BUILD YOUR OWN BOX by selecting your OWN Ginger & Honey Faves! 
Want to see for yourself? Come join Ginger & Honey THIS WEEKEND December 13-15 at Cincinnati's Winter Market at 520 Vine Street. 
Date & Times: 
Friday. December 13th: 4:00 pm-9:00 pm
Saturday, December 14th: 12:00 pm-9:00 pm
Sunday, December 15th: 12:00 pm-5:00 pm